Shamballa Earrings, 10mm, Green, on stamped silver 925 ear studs
Shamballa Earrings, 10mm, Green, on stamped silver 925 ear studs
Article Details

Beautiful Green 10mm Shamballa earrings.
The ear studs and butterfly back are stamped silver 925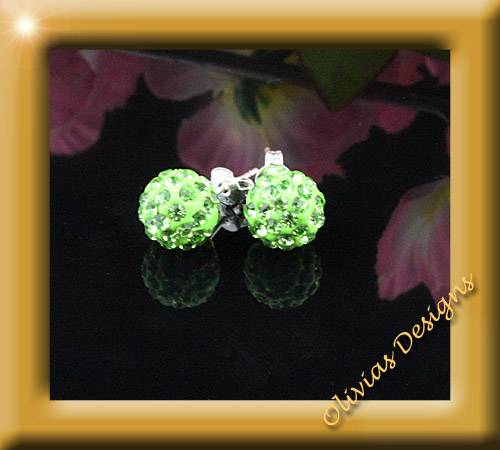 Payment
For customers outside of Europe we can only accept payment via Paypal at this moment in time.
Shipping
All items will be sent via Deutsch Post, unless otherwise agreed, and will be despatched within 1 business day of receiving payment.
For USA, Canada, Uk, Australia and most lands outside of Europe the items will be sent by registered post.
In Germany we have an excellent reputation for how quickly our customers receive their items and we wish to retain that reputation.
About Olivia`s
Olivia`s started out in 2013 as just a hobby and we were surprised at how many people started to ask... where did you get those earrings ( substitue for bracelets, necklacess etc ) I would love to have some.
The hobby very quickly turned into a small business and now we are one of the fastet growing jewellery suppliers on Ebay Germany.
We take great pride in the quality and originality of our work, only using precious or semi precious stones together with, mainly, either sterling silver ( or silver 925 ) and gold ( 9ct or 14ct ).
We do, of course have some products that may include gold filled, or plated metal but they are few and far between.
If you do not see that special item you are looking for in our Ebay shop please contact us as we are more than wiling to make something exclusive just for you.
At Olivia`s...... if it looks like a pearl it`s because it is.
Feedback
Feedback is very important to us and we will do anything to keep our good reputation. There will be times when something may get damaged in the post, may be late in getting to you or whatever. Please contact us when something happens and we will do our very best to ensure any problem is resolved to your satisfaction. We would appreciate it if you did NOT just go and write something negative, especially when it will probably be something beyond our control.
All positive feeddback will be gratefully accepted of course and we will give positive feedback to all our customers who purchase in the correct manner..
Contact
For any questions please contact us at shop@olivias.eu
| | |
| --- | --- |
| | |